Since the offseason is soon upon us I thought I'd post this. I'm assuming people reading this also got a chance to listen to Jon Barry's commentary during Game 3.
Having played for 9 teams in his career (never lasting more than 3 seasons ANYWHERE) Barry put up Hall-of-Fame numbers. Averaging a whopping 5.7 points/game on 43% shooting, he was thought to be the next coming of Jeff Hornacek. 2.2 Assists and 1.9 Rebounds per game were nothing to sneeze at either. Wikipedia even has trouble classifying his greatness
Career highlights and awards

* No notable achievements
Some say his durability was his greatest attribute. Barry was so reliable he played in all 82 games
once
in his illustrious 14 year career. Obviously that kind of toughness and fortitude is something every team seeks. That's why Barry started, in 14 years mind you, a total of 36 games. Teams loved him. Fans loved him. The next logical step was to go to the booth and give his unquestioned opinion on the game he loves so.
That's where our story picks up. Listening to him talk about the Suns and how he wanted them to win made me nostalgic for a good ole fashioned appreciation thread. "You wanted the Suns, but I bet even YOU didn't expect them to be up 3-0". Well put Wilbon. Maybe he can give us more insight on how much better of a Point Guard Steve Nash is than Tony Parker. After all, Parker could never make that pass.
So leave your appreciative comments below!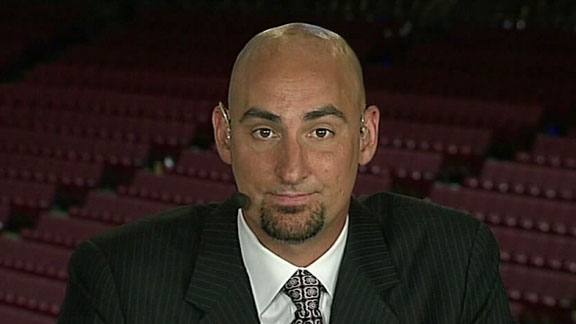 Oh yeah, he's bald too.