It's getting to the point where you just expect the Spurs to beat the Suns. I wasn't really ever worried during last night's game. The only point where I was thinking it might be close was when Paper Hill stole the ball from Parker and got an and1 (which was bullshit because there was no foul). But that was near the end of the game and then Parker put water on that fire the next time down the floor. Valiant effort but valiant efforts usually get you losses...ya losers.
The 1st quarter ended up being a helluva shooting drill. Tim and Tony made it clear early on they had it going. But unfortunately Pop wanted to let Amare have open 15-20 foot jump shots. Derr, he can make those ya know? The shooting virus even infected Michael Finley as he didn't continually miss open shots. Hooray! Bob noted this when we were conversing last night during the game, but George Hill looked really bad early on. It seems he has fallen back into the "I'm a backup so I can't be helpful" mind scheme. I'm not saying it's conscious but it seems to be there. Spurs up 1 at 32-31 going into the 2nd.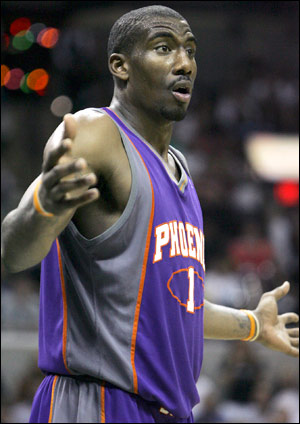 "What do you mean I can't shoot it every time? I'm a SUPASTAAAA!"
The 2nd quarter was a mixed bag on offense. Everyone seemed to be doing fairly well. Señor Bald Spot was being aggressive and Money Mason was hitting his shots (though his did take a couple really dumb shots). The 2nd is also when things started getting testy. It's not really surprising Amoron Stoudewhiner got a technical foul after screaming like a baby after missing a layup. Steve Javie was officiating the game. He doesn't take shit from anyone. To show he wasn't playing favorites, he called a tech on Tim only 3 minutes later for doing pretty much the same thing Amare did. Except replace "screaming like a baby" with "loud clap of frustration". Just before that Tony had picked up his 3rd foul so he had to come out. That's when Hill came in and showed that if he's not in back-up mode (Tony wasn't coming back in), he plays pretty well. He had an excellent drive and hoop before halftime. Of course, Nash hit a three right as the half ended. Why? Because the Spurs forget the game keeps going after their final possession of a quarter (See 76ers, Lakers, Jazz games). Tie ball game at 57 at halftime.
"Why thank you for the sacrifice. No more T's for you."
The third quarter was the Bruce Bowen show...wait, what? Alright so technically only the last couple minutes were where Bruce was spotlighted, but it was hilarious and so satisfying that I don't even care what happened in the previous 9 minutes (Manu and Tony both had excellent quarters). Tony Porter thought it would be a good idea to employ Hack-a-Bowen. In fairness, Bowen had been shooting 28% from the line this year. In complete unfairness, Porter is an idiot. Not only did Bruce sink 5 of 6, but it also slowed the game down to a Spurs type pace. Terry Porter, don't try to be Popovich. You're just gonna fail. The Spurs are only up 2 points with 3 seconds to go but Steve Nash decides he wants to be a stupid Canadian. He hold Manu on the inbounds pass, bitches, gets a tech and thus gives the Spurs 3 free points. Spurs up 5 instead of 2 at 89-84 going into the 4th.
"You're good you."
"Nah come on, me?"
Alright 4th quarter, do or die time. Spurs can't let up on their...oh shit their offense is sucking now. Oh, why thank you Kurt Thomas. Your offensive rebounding is a nice addition to this team. No, I promise we won't bench you when we bring in another big man. What? Why would I stare into your eyes?
Yes KT's rebounding was nice. But so was the overall defense. Close outs and man-to-man defense was pretty good in the final quarter. Instead of allowing 25+ points, the Spurs held the Suns to 20 points in the quarter. The Spurs built a nice lead but that was pared down to a 3 point lead when Grant Hill stole the ball from Froggie, made a layup and got a horseshit call. That's alright, tonight Tony showed why he's an all-star and Nash isn't. Right after that Tony essentially hit the game winner. A 22-foot dagger if I've ever seen one. It was fun to watch the end. Nash tripped over his own feet, then thought it a good idea to foul bruce without the ball. Only problem is under 2 minutes left, that's an intentional foul. Spurs got one free throw+the ball out of bounds. Hilarity. Add some Manu Free Throws and game is sealed. Spurs win 114-104.
"I betcha I could turn all of these over, eh"
It never gets old watching the Suns lose to the Spurs. And I have a feeling it will continue to never get old for years to come.